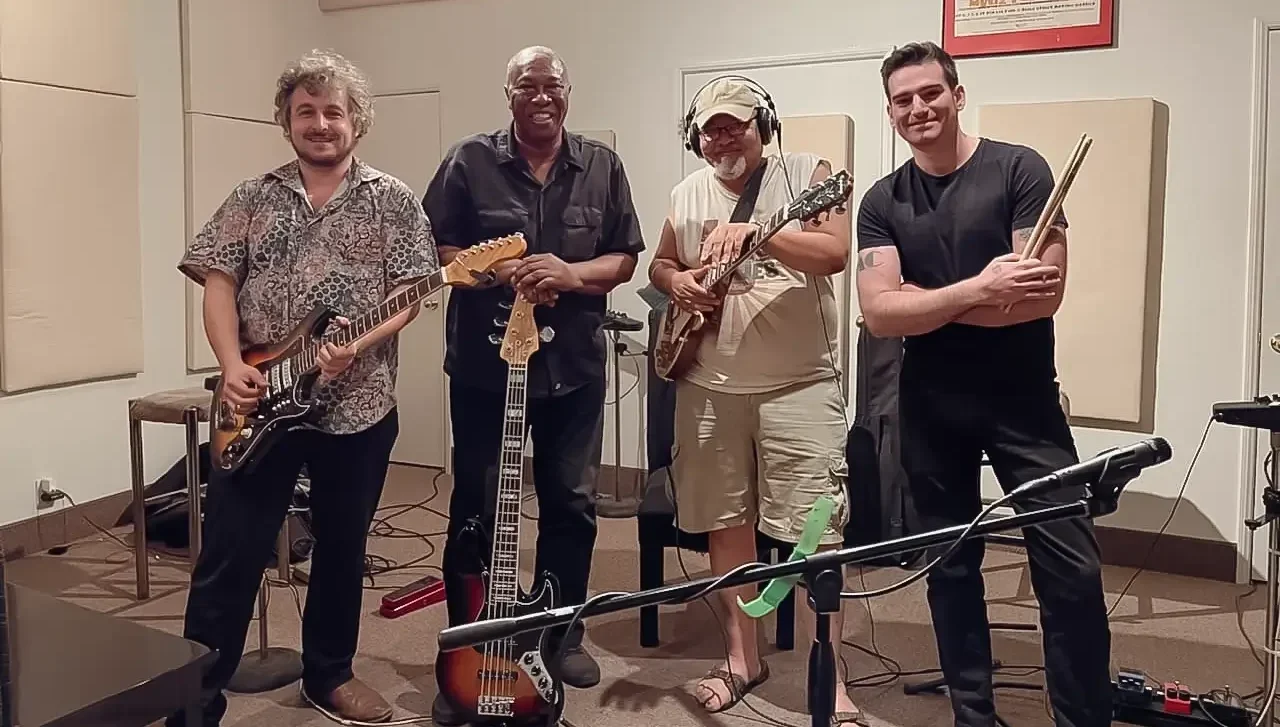 "Rae's Place" by Jerry Warner and the Brothers Kin
   Back in 2022, I got a call that I was happy to get because it was from one of two of my favorite bass players to play with. One of them is Matt Quilter, the incredible "Bill Wyman" in Jumping Jack Flash. The other bass player I met quickly after joining the Chambers Brothers because he was the bass player. He was also the nephew of the Chambers Brothers. He was, and still is, Mr. Jerry Warner Chambers. 
   For those non-drummers out there (or non-bassists), a band essential is the connection of the rhythm section. The bass and drums MUST connect for the rest of the band to do their part. It's the foundation, and if the rhythm section isn't together and strong, it's not a good outcome. I've played with my fair share of bass players who are in their own little world or ignore me and just follow the singer. The SINGER! I've also played with a lot of bass players who do listen to me, and thus I listen to them and all is well. But sometimes…. sometimes a bass player comes along that's just… well, perfect. Okay, I'll calm down.
   What I mean is that there's a connection that either clicks right away or develops over time. This connection allows the bassist and drummer to play in sync and create a great foundation for the rest of the band. With Jerry, that connection developed pretty quickly. Mainly because I just followed him. Jerry has been playing with the Brothers since before I was born, so of course I'm gonna follow him. But this created a perfect synergy (I think that's the word?) between us that came through on his album God Bless America.
   Yeah, remember at the beginning of this novel in the title where it mentions an album? I sure didn't. That phone call? It was about an album. A gospel album! Written by Jerry, and he performs on bass and vocals on it as well. Those of you who know me well are thinking "You are on a gospel album?" No! I'm on TWO gospel albums! Jerry is in the process of mixing the second album and I'll announce when that's released hopefully soon. Regardless of your religious beliefs, I highly recommend this album. And regardless of my, or Jerry's, or the sound engineer's religious beliefs, musically this album is incredible. 
   I have to point out one song in particular. Track two on the album; a beautiful song called "Rae's Place" which is by far my favorite track Jerry has ever written (that I've heard so far). The song is dedicated to, and about, Rae Warner, Jerry's brother who is unfortunately no longer with us. Fortunately, I got to meet and hang out with this man who was always pleasant. I'm not really sure what other word to use, but I mean that in the most positive way. He was always in a good mood, great to be around, just an all-around good guy. I completely understand why Jerry looked up to him and wrote this song.
Hear "Rae's Place" by Jerry Warner from his album God Bless America
   If you actually went and listened to the song above, I hope you see what I mean when I say how great and beautiful it is. Part of that has to do with the melody, the arrangement, basically the song itself, but a lot of it has to do with the lead singer: Jerry's cousin, Asia McGlover. Jerry was singing the lead vocal line as we were learning and arranging the song, and it was quite different. So I was pleasantly surprised when I heard Asia's rendition. Sorry Jerry, her version is better! (He agrees)
   Between Asia's amazing vocals and Vince's perfectly executed guitar melody throughout the song, it's hard not to just feel good by the end of it. As far as my part goes, I played what I felt was appropriate. All while matching my kick with Jerry's bass lines. I hope I did the song justice. Jerry's happy, so that's good. In all seriousness though, I loved playing on this album because it also allowed/forced me to play the way I always like to, musically. Like Ringo does. He plays exactly what each song needs. He's not showing off, he's not trying to steal focus, he's playing just what the song needs as far as the drums go. That's what I wanted to do on this album. That's technically what I want to do on every album I'm on, but because this is a gospel album it was especially prudent to not get in the way of the vocals. 
   Needless to say, I'm very proud to be on this song. On this whole album! It helps that we recorded at an amazing studio, Ardent Audio Productions in Torrance, CA, and we had an amazing engineer, Rich Wenzel, who made the drums (his kit, my snare/cymbals) sound great. Regardless of your religious affiliation, this music is a perfect blend of Gospel, Blues, Funk, Jazz, and Rock, and can be appreciated by anyone. Did I mention it features Joe Chambers on multiple tracks as well? No? Well, it features Joe Chambers of the Chambers Brothers on multiple tracks. It's DEFINITELY worth a listen. I'm looking forward to the next album and I'll be sure to make an announcement when it's released!
"Rae's Place" Credits:
– Jerry Warner: Bass, backing vocals, writer, producer
– Asia McGlover: Lead vocals
– Vince LaBauve: Guitar
– Crazy Tomes: Guitar
– Jon McCracken: Drums
– Rich Wenzel: Engineer, keyboards
Listen to God Bless America by Jerry Warner and the Brothers Kin on Apple Music, Amazon Music, Spotify, or iHeart Radio.